Good news for foreign residents in Japan! As of July 1st, 2021, the "JR Kyushu Rail Pass (All, Northern Kyushu, Southern Kyushu), which was originally only available for purchase with a tourist visa, will now be available for purchase and use by foreign residents in Japan! What's more, if you visit Donki with this pass, you can even receive a great discount, so don't miss out!
★★★Donki's coupon will be started from 7/15/2021.★★★
>>>>>>Click here to the coupon page <<<<<
What is the JR Kyushu Rail Pass?

Originally, these tickets were developed for short-stay tourists to get around Kyushu at a more reasonable price, but in order to reduce the burden of travel on foreigners living in Japan, who have worked so hard to support the Japanese economy even during COVID-19, JR Kyushu have specially eased the purchase conditions this time. The three main ticket types are as follows:
JR Kyushu Rail Pass(All)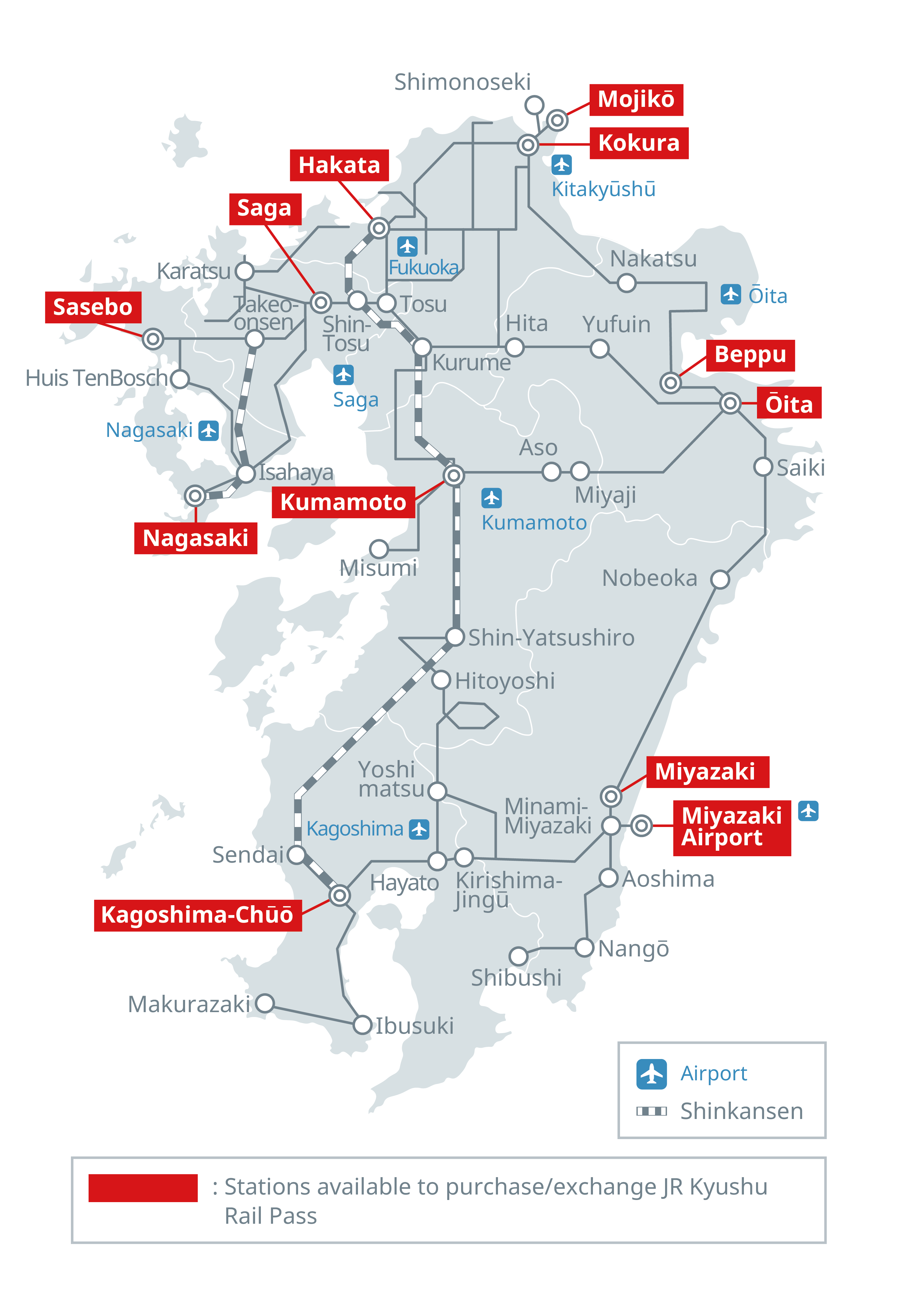 In other words, Kyushu in it's entirety. The price of the JR Kyushu Rail Pass (All) is as follows.
*Please be aware that you cannot take the Bullet Train, Subway, Private Railways or Buses between the Kokura and Hakata areas.
JR Kyushu Rail Pass(Northern Kyushu)
This pass will allow you to travel across Oita and Kumamoto, while also being able to travel around Beppu and Nagasaki!
The price of the JR Kyushu Rail Pass (North) is as follows.
*Please be aware that you cannot take the Bullet Train, Subway, Private Railways or Buses between the Kokura and Hakata areas.
JR Kyushu Rail Pass(Southern Kyushu)
If you want to visit Kagoshima, Miyazaki and the southern part of Kumamoto, we highly recommend this ticket!
The JR Kyushu Rail Pass (South) is only available as a 3-day variant, so the All Regions pass may be more suitable.
Donki's first participation in JR Kyushu's benefit! Service Details (From 7/15/2021)
It's not often that you can get such a great deal on a trip to Kyushu, while simultaneously getting a discount from Donki. First of all, let's take a look at the discounts, which is the part which everyone is the most interested in.
That's right! Kyushu is divided into four areas, and if you spend ¥2,200 (tax included) at designated stores within each area, you can receive a discount of ¥250. In other words, if you plan to visit the whole area, you can save up to ¥1,000 across 4 separate visits. This kind of discount service has never been offered before, so don't miss out!
How to use the discount
I'm sure you're wondering where you can get your hands on these coupons right? As a matter of fact, instead of paper coupons, we are actually providing digital coupons that are also environmentally friendly. In order to receive your coupons, please follow the steps below on your smartphone.
In the introduction, you will find a URL that will take you to the coupon page. Click on the URL and you are good to go!
Take a look at how the coupons look!
When you're ready to use it, make sure that you have your pass in hand, and this screen ready ahead of time to make the checkout process smoother! Also, please note that once you have used the coupons for each area, they will turn black after scanning and cannot be used again.
Participating Stores
Please note that this coupon cannot be used at all Don Quijote stores in Kyushu, and can only be used at certain participating stores.
Fukuoka Area
Kokura Store・Nishijin Store、Fukuoka Kuko Minami Store・Fukuoka Tenjin Store
Saga・Nagano Area
Saga Store・Hamanomachi Store
Oita・Kumamoto Area
D Plaza Oita Store・Shimotori Store
Miyazaki・Kagoshima Area
Miyazaki Store・Miyazaki Tachibanadori Store・Kagoshimatenmonkan Store
Please note that there are some products that will not be included in the total amount of ¥2,200 including tax. The following items are not eligible for discounts: alcoholic beverages, cigarettes, prepaid cards, electronic money charges, money coupons (stamps, gift cards, rice coupons, etc.). Additionally, please be aware that, unfortunately, these coupons also cannot be used in conjunction with majica or any other discount service.
Summary
We at Don Quijote and JR Kyushu understand the feeling of difficulty which comes with not being able to travel that everybody has had to endure during COVID-19. Taking into consideration the risk of infection, both the transportation system operated by JR Kyushu, as well as Don Quijote stores will continue to take all possible measures to help prevent the spread of infection, so please rest assured and enjoy your trip to the fullest.
The campaign is scheduled to end on March 31st, 2022, but the details may be adjusted in the future depending on the situation. Please always check the latest information from Donki and JR Kyushu in order to enjoy your trip to Kyushu at a great value!
The above content is copyrighted by the Don Quijote Inbound Support Division, and all pictures and text on this site may not be reproduced in any form.
Photo Credits